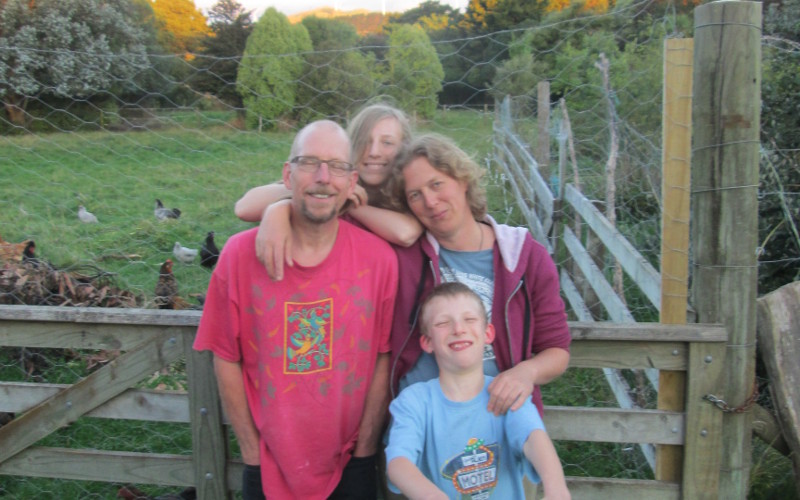 Meet the people of Slow Farm
Phil & Rain's mountains are the Santa Catalinas of southern Arizona, and their river is the Santa Cruz. Sharon's mountains are the Oregon Cascades, and her rivers are the McKenzie and Willamette. Perry's mountains are the Ruahines, and his rivers are the Pohangina and Manawatu. We all now live at Perry's birth home, and we acknowledge the mana whenua of Rangitaane. Most of our tipuna are of Western European descent.
We're the Stevens family. We aspire to live well by loving each other, loving the earth, loving our neighbours, and using our talents and energies to create fair and sustainable socioecological systems. This is an adventure that starts right where we're at, and we won't fulfill our dreams within this generation. In spite of shortcomings, we guarantee we'll bring our aspirations into any cooperative activities, along with our respect for others' contributions.
Slow Farm Ltd.
Director Sharon Stevens (Phd) is currently freelancing as a writer and a community educator. You can read more about her background in research, education, and writing through links on the "services" page. Sharon is also a keen herb gardener with interests in holistic health, fermented foods, and foraged foods. She has a volunteer background in providing services to persons who are homeless and/or disabled, and she has lived in multiple intentional communities. She has served as founding Chairperson of RECAP, founding Treasurer of LEAP, and she has been employed recently (into 2017) as RECAP's first staff coordinator and Environment Network Manawatu's Project Coordinator. She is currently Treasurer for Palmerston North City Environmental Trust, and she has several other volunteer commitments also. She has previously worked as a writing instructor, researcher, and programme leader for the University of Arizona and Massey University.
Director Phil Stevens is the visionary behind Slow Farm's biochar and ag consultancy enterprise. He is also employed part-time in a consultancy firm offering solutions to support large institutions in reducing their ecological footprint through energy conservation & renewables and through reduced carbon emissions & increased sequestration. Alongside Sharon, and also independently, he facilitates community sustainability workshops, and he provides some community IT support as a business sideline. He is our homeplace's primary animal husband, as the well as the primary caretaker of the orchard and annual crops. His specialisations including scything, pruning, biochar-making, cooking, and more. Phil is passionate about the reform of economic systems, and he is Chairperson of Living Economies Educational Trust and Treasurer/Secretary of LEAP.
Rain is a home-schooled secondary student. She is a visual artist specialising in digital art and anime-style character design. She has an online portfolio. As a student, she's not an official part of Slow Farm Ltd., but she's still right in the heart of what we do. She's also the go-to person for graphics support. She's adept at poultry handling, and she pays attention to the farm insects.
Perry is a student at Ashhurst School. He is good at bicycling, at direct sowing large seeds, and at harvesting. He's our primary bean planter and picker, and the chooks are his domain. That's really him in the photo; he only looks like he's a Minecraft zombie.