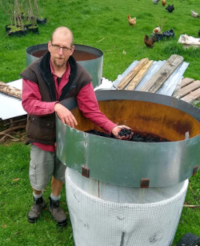 Phil's mountains are the Santa Catalinas of southern Arizona, and his river is the Santa Cruz. His tūpuna are primarily of Dutch and English descent; he also traces his ancestry to the Turtle Clan of Mohawk Native Americans from the region now known as upstate New York.
Phil's primary focuses are biochar enterprise development, plus consulting for regenerative agriculture, carbon sequestration and carbon remissions reduction, renewable energy and energy conservation. He loves practical instruction, and he also offers IT support to organisations and enterprises with community development, social justice, and/or ecological purposes. He is on the boards of Biochar Network New Zealand and Living Economies Educational Trust. In addition to advising others on how to integrate biochar into their enterprises in his role as Slow Farm co-director, Phil also offers biochar and biochar equipment as products through the company COOLStuff Community.
---
The Co-Director has taken an extended leave of absence, effective from 1 April 2022.
The Co-Director continues to use a slowfarm.co.nz email for private purposes and for public volunteering. This is supplied by Slow Farm Ltd. at zero marginal cost. Please do not contact Phil Stevens in an attempt to reach his absent Co-Director. Thank you.