One of the things that drew us to Ashhurst was the obvious joy and love our home's previous owners had put into the gardens. They had already started planting out the paddock boundaries with native plants, so that our current paddock plantings are, for the most part, an extension of theirs. It looks as if they were planting right up to the time they moved out. They had also created a showcase garden around the house, especially on its northern side. Here's a photo I recently found from our first summer.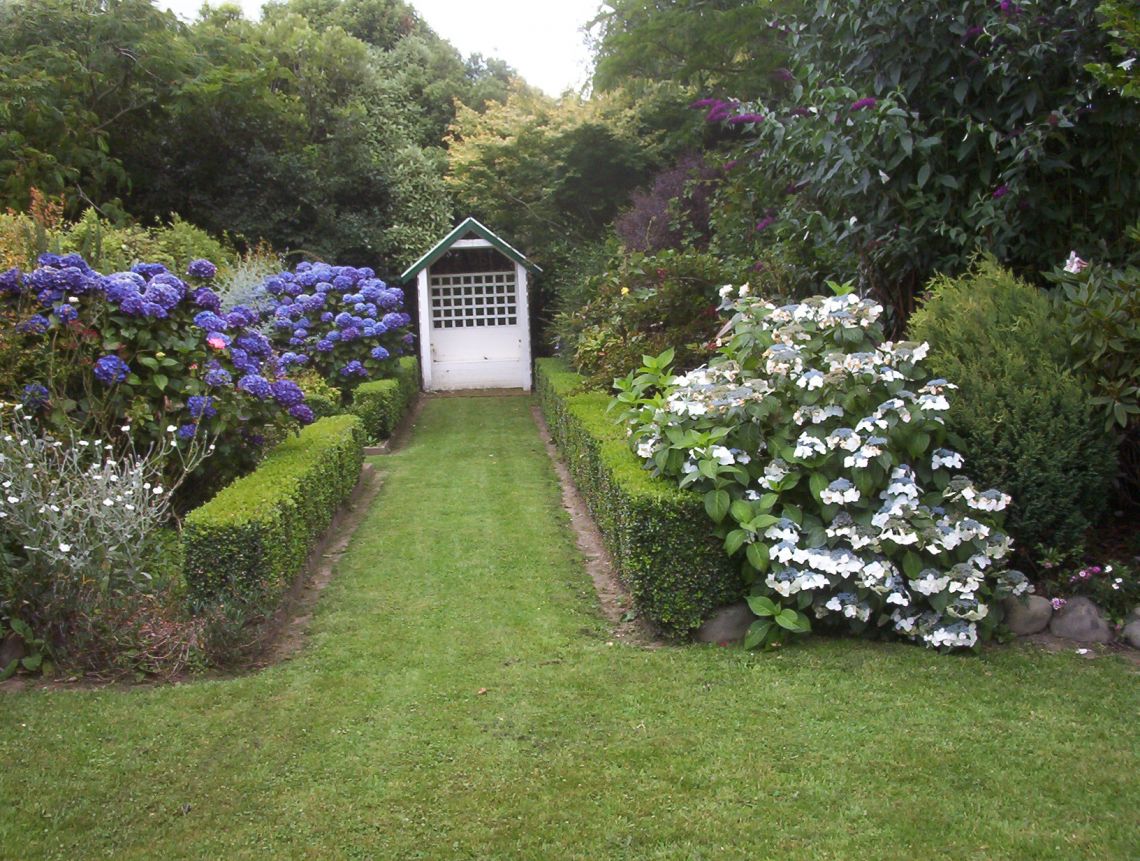 Isn't that gorgeous?
As the years passed, we spent less and less time in these gardens. The reason was simple: gorgeous as they were, they weren't as well integrated into our life as are the food plantings we had been establishing elsewhere. Still, we had so much space to work with, why mess with something this good?
The day came, however, when my herb plantings had outgrown my kitchen garden, and Phil had more tomato plants than fit in his main garden. Every good permaculturist knows that the northern (sun) side of the main dwelling is often an excellent place for a food garden. It was time to retrofit. Over the years we had added some food plantings into these existing flower beds; now, we wanted to re-plan from the start. Besides, my permaculture design course students were doing their final design projects. It just seemed like good practice for me to work on a formal design at the same time.
Our primary design goals were based around the perennial plants we wanted: more blueberries, more citrus, more space for herbs. Our home has no doors on the northern side, so even though we still consider this "Zone 1" space, it's not the kitchen garden, not the space I've dedicated primarily to salad greens and more everyday culinary or beverage herbs.
My first step was to develop the base plan: walking out the site dimensions. After years of living here, thinking about existing microclimates and patterns of light was fairly straightforward. The site has plenty of wind shelter, and a corresponding amount of shade.
The next step was to establish our desired pattern of beds and pathways. In particular, we wanted to let in more sun. That lovely path to the summer house runs just about north-to-south, so that the grass gets more sun than the ornamental beds. To change this, I started sketching out designs with pathways that weave through the space. I oriented the wider main paths (large enough for a wheelbarrow) from east-to-west as much as I could within a narrow space. This brings more sunlight to the southwards edge of each path.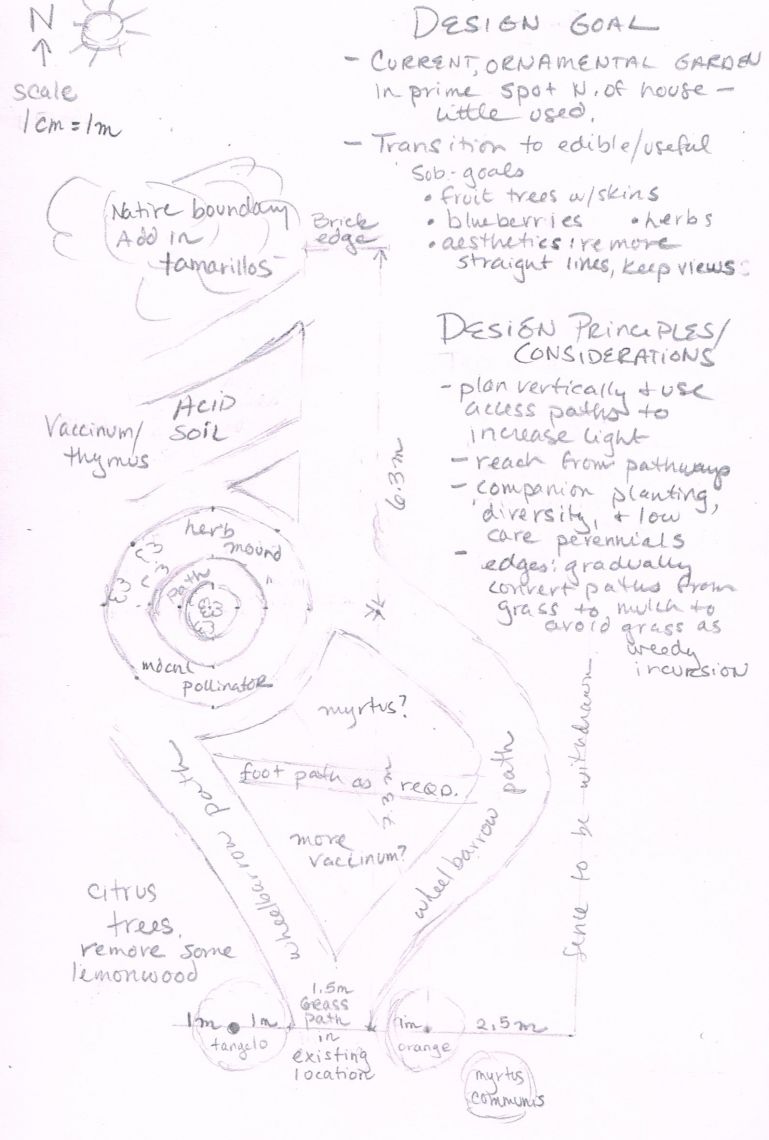 I also decided to create a large, slightly mounded mandala-like circle for my herbs at the middle of the design. Because the herbs I'm choosing will stay under a metre high, my 4m diameter circle opens up sun and air movement for the citrus trees we plan to plant to its south.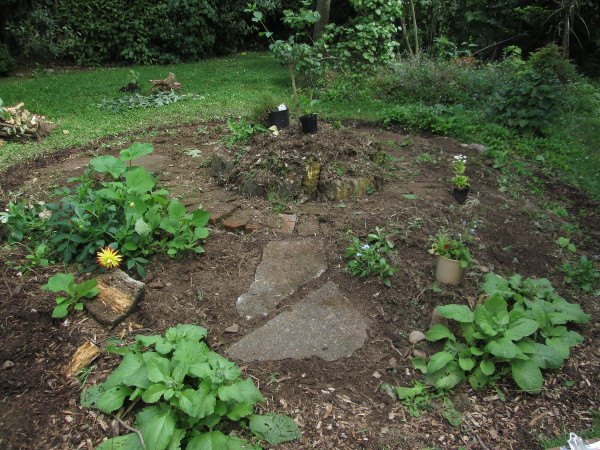 Here's the completed beds for the central mound. At the time of this photo, I had just started to place out some of the potted herbs Phil and I had been propagating over the past six months. Once I had finished planting out the perennials, Phil filled in all the gaps with heritage tomatoes. Might as well fill available space with annuals until the perennials bush out! Phil then covered everything with a generous layer of mulch.
This project is taking me awhile, and there's still a bit of work to be done. It's hard to see, but if you look at the centre of the herb mound, you'll see a twig; this is a hydrangea pruning from which I tied a string to help me keep a relatively constant radius when installing the mound. The twig is now leafing out quite vigorously, evidence of a slow pace that, at times, I struggle to accept.
My experience tells me, however, that I'll do more in the end if I go at whatever pace suits my energy. I comfort myself with a reminder that Mother Earth's archetype is a turtle, and also that this retrofit project needed to fit with my community work, my family, a fractured foot, and my regular plant propagation and garden maintenance.
In the meantime, this project has won me over to the value of putting my design plans on paper. Phil and I do much of our home designing through lots and lots of dialogue, some rough sketches, and a wee bit of trial and change. Because this was a demonstration project for my students, I mapped it out more precisely than usual. I then gave myself a hairline fracture on my right heel, which meant a significant time gap between design and implementation. Having a carefully scaled visual plan has helped me to stay faithful to our aim for a holistic redesign. Also, my students offered me a mini-permablitz near their graduation, when I was just off crutches but still unable to dig. The paper plan helped us work together to pot up plants that needed moving and then get much of that central mound in place.
That mini-blitz was back in late September. It's now early February. So far, we've managed to plant up this central circle, to define the pathways and beds to the immediate north (but not to prepare or to plant them), and to integrate some tamarillos into the northern boundary trees. Next steps: finish the beds to the north to the mound, start defining the beds and pathways to the south, and keep on planting!
Update from May 2018

The herb mound is now a riot of life and could use weeding. I've let some of it go on purpose, though, because I've become fascinated by how much it reminds me of a sunlit opening within a forest--this is because an abundance of mulch has shaped the soil and what grows on it. Nonetheless, I'm in the process of putting in a second ring of bricks to reduce the weeding in the mandala's outer ring of pathway.
This past summer I did a lot of work north of the herb mound, too, with a berry patch focusing on Vaccinum spp.: blueberries and North American cranberries. I've also planted thyme, which is happy in the acidic soil I'm creating by bringing in a pine needle mulch. I underestimated how dry our free-draining soil would become, and I have had to replace one blueberry.
Beyond that, I have tamarillos in a couple of new sheltered spots, and I'm also working immediately north of the house, creating a hot and dry microclimate for a range of culinary, medicinal, aromatic, and utility (e.g. insecticidal) herbs.
There's several more years of Sharon-paced work to go before this area fully settles into its new form!