Making Social Permaculture Stronger in Aotearoa
Social permaculture * invisible structures * hui

Social permaculture—also referred to as "invisible structures"—can apply to a range of topics:
living economies and fair-share investment;
community development, governance, and participatory processes;
ways of learning, personal, and cultural transformation;
spirituality, (social) psychology, and holistic health;
and more.
You are warmly invited to be part of a hui to develop and strengthen social permaculture in Aotearoa. All are welcome, but this hui is geared at those with an existing interest in social permaculture/invisible structures. Children of participants are welcome too. Our venue accommodates a maximum of fifty participants.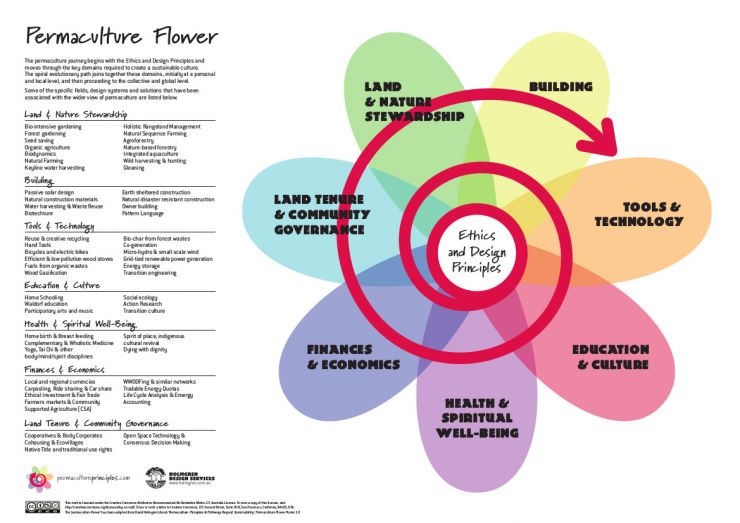 Many of the petals on David Holmgren's "Permaculture Flower" have more to do with social and cultural aspects of permaculture design than biophysical elements of permaculture design, though in the end these are all inseparable. Poster image borrowed, with thanks, from permacultureprinciples.com
registration
To register, please use the form below, or contact Sharon (sharon@slowfarm.co.nz) for registration, input, and/or queries.
Registration dates:
31 January - Preferred registration and payment (or part payment) timeline to support Sharon and Kirsty making purchases through an organic buyers' co-operative.
12 March - Registration and payment required so we can buy the rest of the kai!
Again, $100 per adult and $50 per child (age 2-15, infants no charge), plus food contributions.
Participation

There are many ways to participate in the hui:
Be a part of it! Listen and interact.
Suggest topics for the open space sessions, or suggest session ideas in advance.
Step up while present to facilitate or co-facilitate, to take notes, to help with meals and clean-up, etc.
Prepare a poster showcasing your social permaculture ideas or experience for our Saturday morning poster session.
Prepare a seven-minute presentation (maybe 3 minutes of talk plus Q&A) for our Saturday morning PechaKucha / quick-sharing session.
Bring musical instruments etc.
For more about what's happening at the hui, check out the full schedule below.